MommaSnaps Healthier Shrimp Fajitas Recipe
This recipe is so QUICK and EASY and DELICIOUS! Your family will think you're a genius! (LIGHTBULB)
I love Shrimp, all the different ways, like that guy "Bubba" from Forrest Gump. Fried shrimp, grilled shrimp, popcorn shrimp, shrimp fajitaaaaaas… One of my all time favorite ways to cook shrimp at home is to make up a batch of shrimp fajitas. Shrimp is very low fat by nature, so it is a very versatile ingredient for adding healthy fats and eating in a keto/THM S setting or keep it low fat and eat some healthy carbs for a THM E. Good for everyone. Thumbs up all around, unless you're prone to gout, in which case I am so so so very sorry. You poor seafood-less soul 🙁
You'll notice that I use refined coconut oil or MCT oil in most of my recipes. Let me get all science-ey for a second. (Insert NERD emoji) Let me explain. Refined coconut oil is stable at a high heat and has a higher smoke point. It doesn't harm this oil to reach high temps. However, our beloved EVOO (Extra Virgin Olive Oil) and other beautifully healthy LOW HEAT oils actually transform into something that molecularly resembles trans fat when it is heated to a certain temperature, usually just over 320 degrees. So, while there are many great and healthy oils out there, avoid them for high temp cooking and use them in salad dressings and other low temp recipes.
*affiliate link below*
Step 1: Assemble the veggies and PREP! Lots of veggie cutting prep work. Put the idle hands to work if you have any bored kids around who are old enough to cut with sharp knives or use a slicer tool. I use any combination of red, green, yellow or orange peppers, purple onion and a serving of tomatoes if you're into it. Throw in some cherry tomatoes and save on one less thing to cut.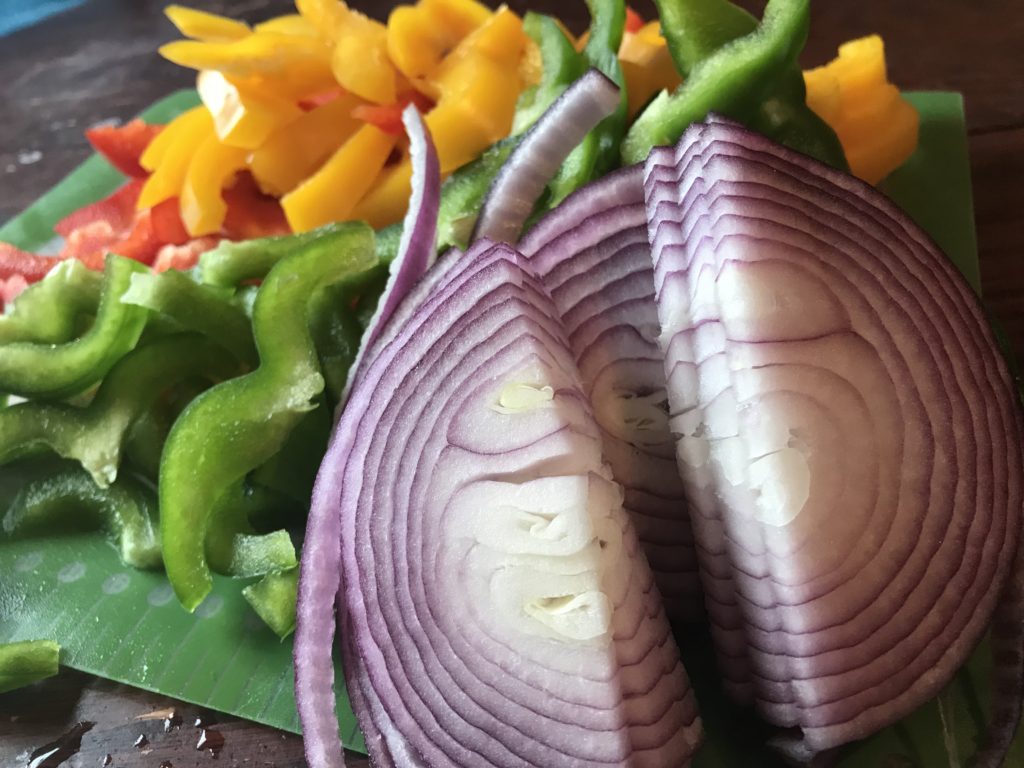 Step 2: Wash/Rinse the shrimp and pull off all the tails. This is a labor of love. I LOVE to eat my fajitas WITHOUT having to stop every few minutes to pull a shrimp tail out of my mouth. YUCK! Plus, I LOVE my family and don't want to see them choke on a shrimp tail. That too…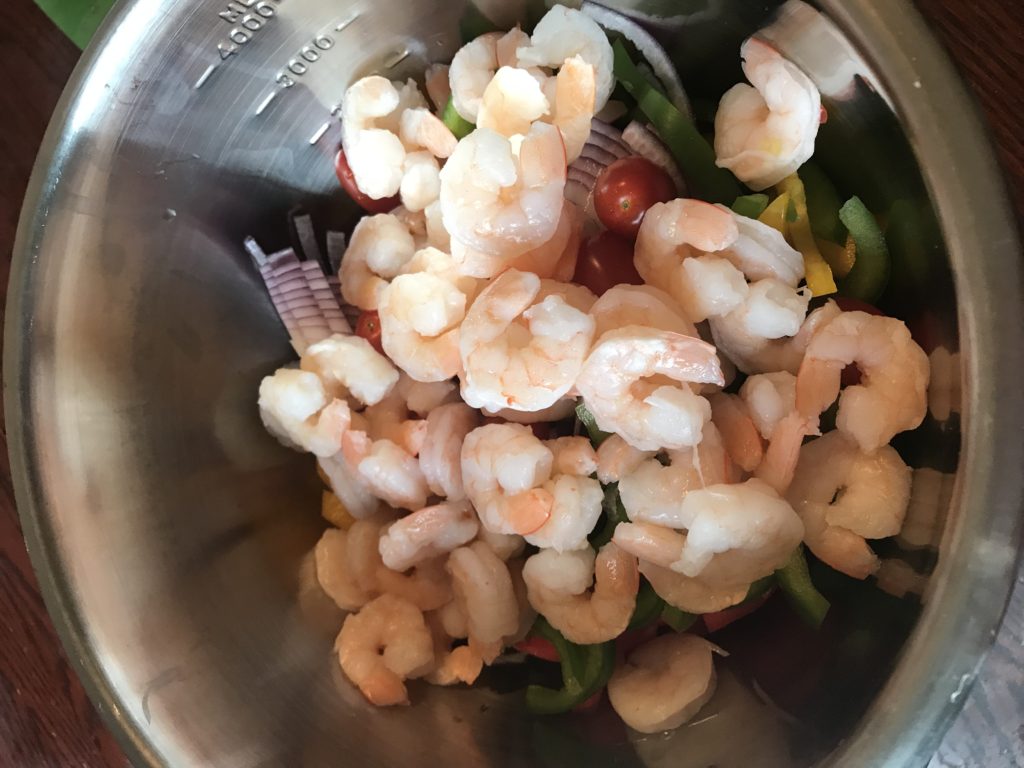 Step 3: Prepare the oven and pan. I bake this at 425 degrees, about 10-12 minutes. I line my pans with foil or pan liners to save clean up. Then, when dinners over, it's a quick peel and toss and I don't have to spend the evening scrubbing crusty shrimpy vegetabley bits of food off my pans. Yay!
Step 4: Toss the veggies, shrimp, spices and oil in a big ol' bowl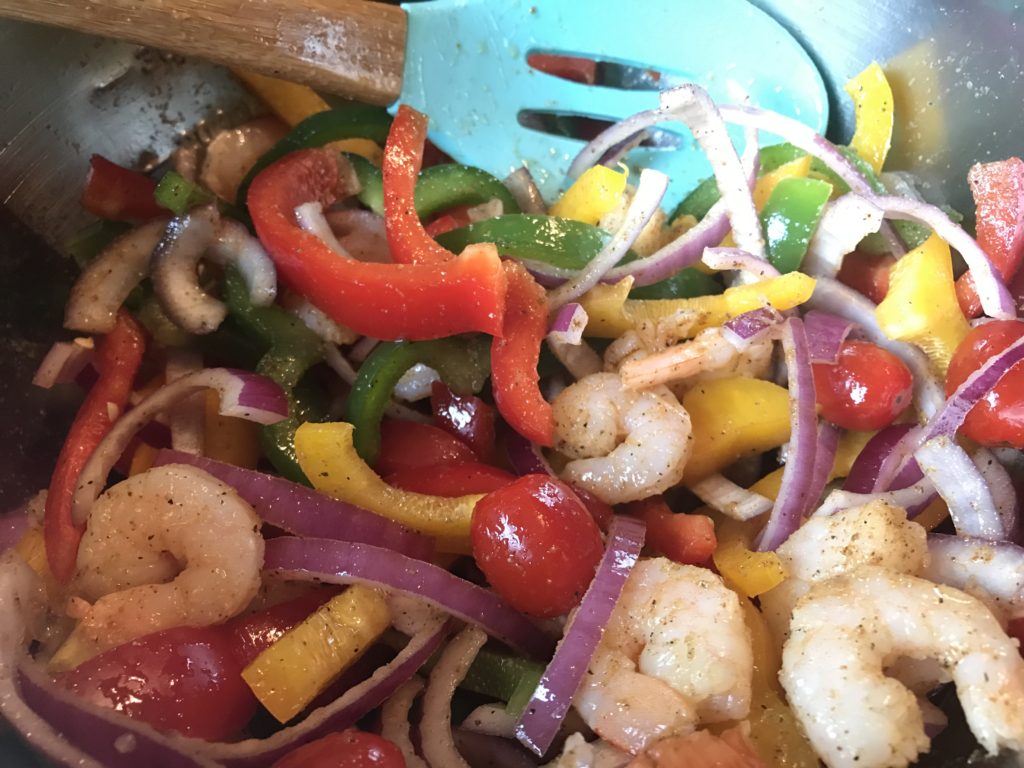 Step 5: Spread into the pan(s). This recipe fills up 2 of my pans easily. I like a nice thin layer so it all bakes well without a bunch of sogginess.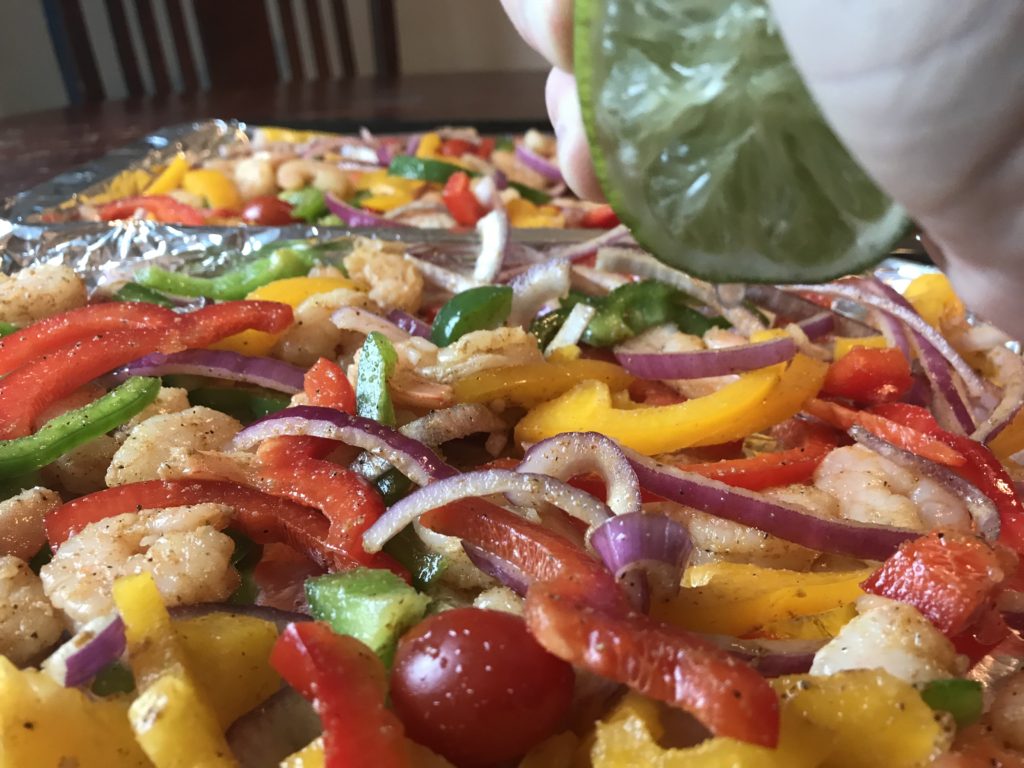 Step 6: Bake at 425 degrees for 10-12 minutes until golden brown and your house smells like a fiesta!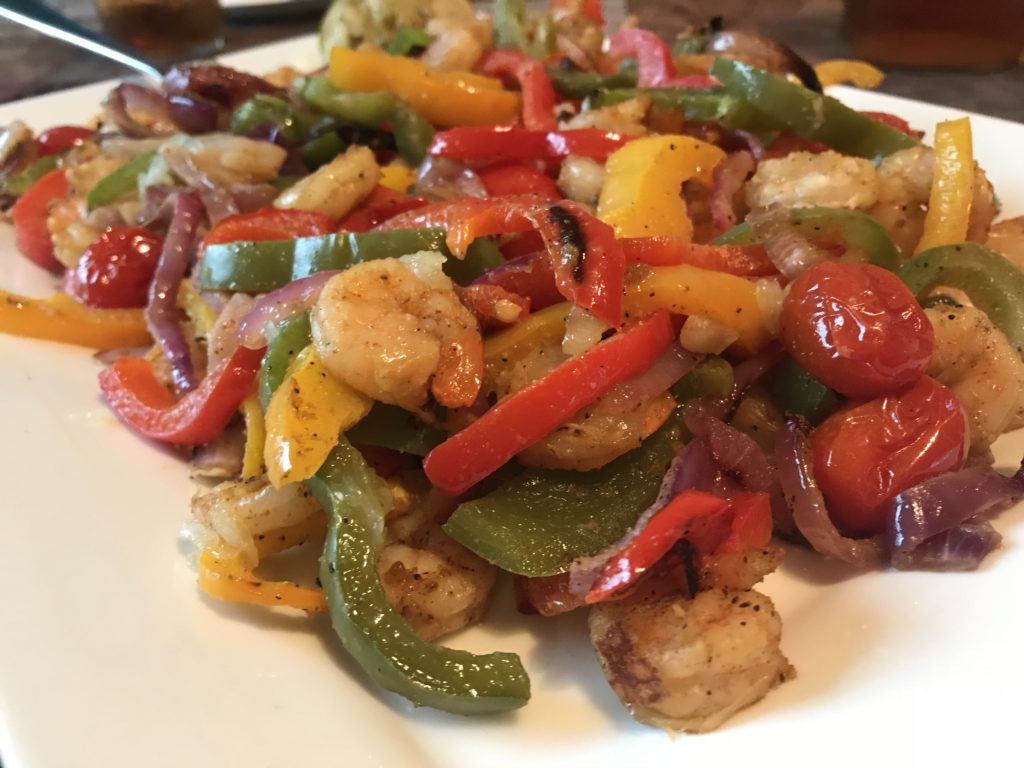 Step 7: Garnish. For best results, serve with warm torts and use plenty of chopped cilantro, pico de gallo and sour cream to garnish. Squeeze lime wedges over the whole thing.
Step 8: Serve, enjoy and SHARE your new favorite recipe with all your friends.