I have been hearing people singing the praises of dry shampoo for a couple years now. Its all "OH MY GOSH BECKY, You've never used DRY SHAMPOO?" and "Are you, like, living under a ROCK or something???" I know, I know. I don't keep up with the trends all that well. But, in my defense, I have a legit note from my dermatologist that I should not wash my hair more than 1-2 times per week. I generally land a fresh washed head of hair about 5 days in. My hair almost never looks dirty, unless I have exercised and worked up an amazing, fat burning, SWEAT! 🙂

Soooo…I'm on my way to a ladies night out, doing my makeup while driving, you know the routine. I glance into the mirror at a red light, see my dirty looking roots and made a quick maneuver into the nearest location where I can purchase dry shampoo. And here is the video of my first attempt. Went pretty well

I will be honest, after a little while my scalp felt a tiny bit grungy and I was all too relieved to get a fresh wash the next morning, but for the purpose of extending your fresh hair look for another evening it was a great option! I used Organix Argan Oil of Morocco and it smelled great! It looks like I used a LOT of product in the video, but there is still a lot left, like MOST of it is still left unused.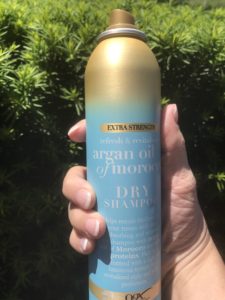 Let me know if you've ever tried dry shampoo, and if i'm doing it right! Thanks!
Share this with your favorite dry shampoo using friend!