Alrighty, You're so LUCKY! You just stumbled upon you new favorite summer recipe! Ok, This is super easy to make, almost NO actual cooking involved. If you have a rice cooker, cutting board and knife, you're all set! (Thumbs UP)
First things first, get your brown rice a cookin' because it will take the longest.
K, then get your choppin' hand ready. You need to dice 2 lbs of cold, pre-cooked shrimp. Please remove tails first. As always, I HATE finding shrimp tails and remnants in my food. (YUCK!) Also, you need to dice 1 whole cucumber. I use the English/Hothouse cucumbers because the seeds aren't as tough.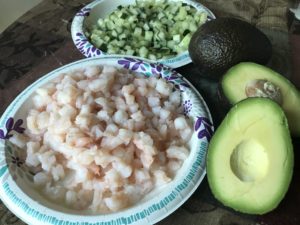 Mash the avocado last, so it has less time to brown.
Get your sauce ready now and sit it in the fridge until needed. You will mix the sour cream and Sriracha together in a bowl and then pour into a squeeze bottle. I recommend using a kitchen grade funnel. Its definitely a good investment.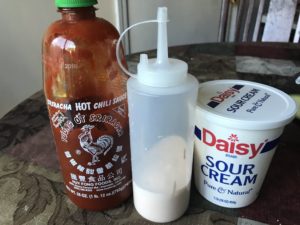 Layer into a small dish like a measuring cup or prep bowl. Line the bowl with plastic wrap. It helps get the stacks out with ease. When it comes to layering, I tried all the variations and have come to the following plan. It holds the stack together best.
-Avocado Mash, spread in a thin layer
-Diced Cucumber
-Diced Shrimp
-Cooked Brown Rice
Carefully Turn the stacks out onto your plate. Once flipped, they're tricky to move, so flip with intent. lol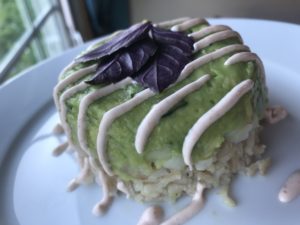 Now time to garnish. Drizzle the sauce onto the Shrimp Stack in a quick zig zagging motion. Additionally, you can drizzle with a little soy sauce and/or Asian basil.
NomNomNom…